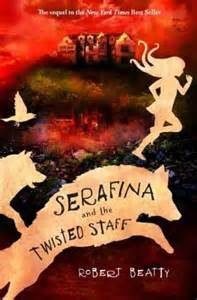 Serafina has barely had time to recover from defeating the man in the black cloak when she faces another threat to the peace of her beloved Biltmore Estate. She notices that animals are fleeing the woods and hills around her home in droves, and she has a terrifying encounter with wolfhounds intent on getting rid of her. Somehow, the mysterious happenings seem to be connected to a grizzled old man who can suck the breath right out of her and disappears and reappears at odd moments. Together with the Biltmore's nephew Braeden and a girl from England, she delves deeper into the mystery despite the risks she encounters along the way.
Serafina and the Twisted Staff picks up where Serafina and the Black Cloak left off, with a fast-paced, action-oriented story perfect for young readers who like a bit of history, a bit of mystery, and a lot of adventure.
Serafina is also grappling with issues of where she belongs, as she feels rejected by the animals in the forest she has such a connection with as well as the people in the mansion. While she fights a force of evil, she is also discovering important things about herself that will help her figure out where she fits in.
Author Robert Beatty has created a worthy sequel that continues Serafina's story while leading her on a journey of self-discovery that has a few surprises for readers who think they know her. It's a lot of fun. One word of caution—brief scenes depicting cruelty to animals may disturb very sensitive young readers. Otherwise, I highly recommend Serafina and the Twisted Staff for readers aged 9 to 12.
The publisher provided me with a copy of this book in exchange for my honest review.