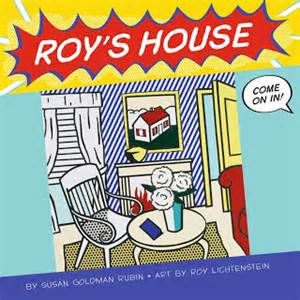 Roy Lichtenstein was known for his colorful art depicting everyday items. Susan Goldman Rubin showcases 20 of those works in Roy's House, a children's picture book.
Children aged 3 to 5 can follow along to a simple narrative that connects Lichtenstein's works of art, each showcasing simple things found in the home, like couches, stoves, bedrooms, and bathrooms. Bright primary colors surround the words and complement the colors found in the art.
Words connect what Lichtenstein created to things children will identify with, such as these: "The bathroom has a tub and sink. We can wash our sticky hands."
An author's note at the back of the book talks about the artist and his signature style of painting using tiny dots. Roy's House is a fun way for parents to introduce the world of art to their children.
The publisher provided me with a copy of this book in exchange for my honest review.