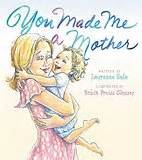 You Made Me a Mother by Laurenne Sala is a celebration of motherhood, from pregnancy through the stages of childhood. In the beginning the mom says, "I felt you. You were a pea. Then a lemon. Then an eggplant." She walks with other moms and reads pregnancy books, puts up baby furniture with dad.
Once the baby arrives I believe she captures the joy that many moms feel when she says, "I realized that I would spend my life doing things to make you happy." And this is a happy book, a portrayal that shows that even when motherhood is trying, mothers still love their children.
Illustrator Preiss Glasser captures the happy family (including an expressive dog) at home, on a carousel, in a backyard wading pool, and on a rainy walk. The pastel colors convey the look and feel of soothing watercolors.
You Made Me a Mother is a book moms will want to read to their young children again and again as another way to strengthen the bond between them.
The publisher provided me with a copy of this book in exchange for my honest review.
Save