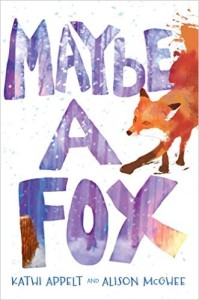 Eleven-year-old Jules is a rock hound who collects all kinds of stones from the rural area of Vermont where she lives with her sister, Sylvie, and their dad. There's igneous, sedimentary and metamorphic. But her favorite may be what she calls wishing rocks, which are perfect for throwing in the river to make a wish come true.
What Jules would like most is to have a burning wish, like everyone else she knows. Nothing comes to mind when she tries to think of one until the day Sylvie goes missing. As she grieves, Jules starts to notice a young fox, a symbol of good luck who seems to shadow Jules. Could the animal help her discover what happened to her sister?
Maybe a Fox by Kathi Appelt and Alison McGhee tells a story of sisters, love, profound loss, and a spiritual connection between animals and humans. Appelt and McGhee weave together words that flow seamlessly as they craft a tale that is both heartfelt and magical while touching on issues such as friendship, grief, family dynamics, and a deep connection with the natural world. I recommend it for readers aged 9 to 13.
The author provided me with a copy of this book in exchange for my honest review.