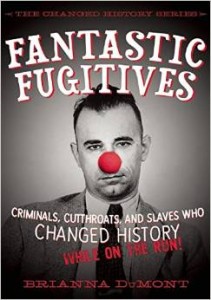 Cleopatra, Martin Luther, the Pilgrims, John Dillinger and Nelson Mandela all had two things in common: at some time in their lives they were in hiding from authorities, and their actions had an effect on history. The details of these and other strange bedfellows come to life in Brianna DuMont's Fantastic Fugitives: Criminals, Cutthroats, and Rebels Who Changed History While on the Run!
DuMont identifies key individuals from different time periods, going back to the Romans and continuing to the present. Each chapter focuses on one particular rebel and major events during the times they lived. There's an irreverent tone throughout, which helps make the historical events relatable to a modern audience. And definitions, some explanations, and other facts appear in pullout bubbles, keeping the narrative flowing and the text from ever feeling dry.
Fantastic Fugitives is a great book both for fans of history and those who think they aren't. I recommend it for readers aged 9 to 13 and their moms.
The publisher provided me with a copy of this book in exchange for my honest review.