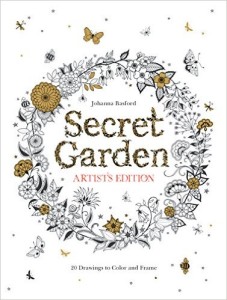 Johanna Basford's Secret Garden: Artist's Edition coloring book is so beautiful in black and white you may have trouble deciding where to add the first bit of color. Eventually, though, you probably won't be able to resist making these images your own. This book contains 20 drawings, and because they are on thick paper with drawings on one side only, they are ideal for framing once you've added your own touches to them.
Some of my favorite drawings are the heart shape made from twining vines, the circle with hummingbirds, and the full page of different kinds of beetles. Most pages contain all kinds of flowers, vines, and various types of garden life. Basford says her inspiration comes from the days she spent rambling the grounds of Brodick Castle on the Isle of Arran in Scotland, where her grandfather was the head gardener.
I find Basford's drawings to be some of the most beautiful among recent additions to coloring books that can be enjoyed by both children and adults. Previously, she released three titles in flexible paperback editions: Secret Garden, Enchanted Forest, and Lost Ocean. Another addition to the line-up is a Secret Garden Journal. It's hard to go wrong with any of the titles as either a gift or to satisfy your own coloring cravings.
The publisher provided me with a copy of this book in exchange for my honest review.