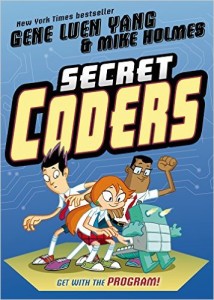 Hopper hates starting at a new school, particularly because Stately Academy looks like a haunted house and kids mostly ignore her. She's surprised when Eni, a guy twice her size who she expects will be mean, becomes her friend instead. She's even more surprised when the two of them discover a mystery at the school. The birds all seem to be watching them, and their eyes are creepy. Somehow everything seems to be related to a janitor who may be hiding a secret.
Secret Coders by Gene Luen Yang and Mike Holmes tells a story through graphic art while teaching kids the basics of how coding for computers and other technology works. It's a story about making friends and fitting in, standing up to bullies and challenging authority. It's also about robots and writing commands that make them work. Illustrations in green, white and black keep you turning pages to find out what happens next. The story ends in a cliffhanger, to be continued in Secret Coders: Paths & Portals.
An author's note at the end from Yang talks about how his passion for computers began with a summer school class in the 1980s, when the only color computers displayed was green and the World Wide Web wasn't around yet. Yang describes coding as "creative and powerful. It's how words turn into image and action." Maybe his new series will inspire young readers to learn more about what makes computers do what we ask them to do and learn a bit of coding themselves.
The publisher provided me with a copy of this book in exchange for my honest review.
Save
Save