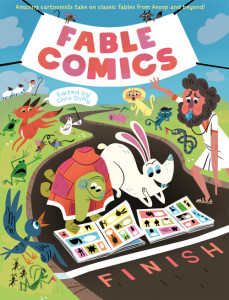 Fables are an age-old way to get a moral across through telling a story. We all know about how the lazy hare tanks in a "can't-lose race" with a tortoise by being overconfident and neglecting to do the work to win. We may also have learned the lesson about not "crying wolf," or telling a lie to get attention because people may not believe us when we tell the truth. Prominent graphic artists bring these tales and others to life in Fable Comics, a collection edited by Chris Duffy.
Most, though not all, of the stories are based on fables from Aesop. A note in the back of the book defines a fable as "a story with a lesson, usually—not always—starring animals." The oldest fables may come from many authors and many sources, but some of the more modern ones come from people who are well known, like the Russian satirist Ivan Krilof or the American author Ambrose Bierce.
This collection is accessible for kids as young as six, and should be fun for the whole family. Each tale is reimagined by the artists with both words and graphics, and the origin of the fable is labeled. Because different artists illustrate each fable, many styles and color schemes appear in the book. It could be fun to compare them, and to look for other titles by the artists. It could also be interesting for family members to talk about which styles they like best and why.
The publisher provided me with a copy of this book in exchange for my honest review.