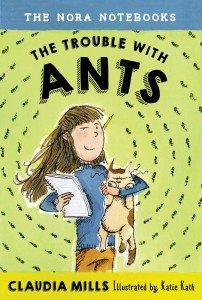 Today I'm taking part in a blog tour for The Trouble With Ants, Book 1 of the Nora Notebooks series by Claudia Mills. I loved Zero Tolerance (see my review), also by Mills, and I will be posting a review of her new book soon. Until then, I thought you'd want to know a little bit about this promising new series for readers aged 7 to 10.
Also, I have one copy of The Trouble With Ants to give away to a reader in the U.S. Just leave a comment here by midnight (PDT), October 19, about a favorite science experiment you have conducted or helped with and you'll be entered to win.
If you'd like to take a look at the first 32 pages of the book, visit the Random House Kids website and click on "Look Inside" under the book's cover image. If you're interested in reading other reviews or checking out a curriculum guide, head over to Mills's website. The Trouble With Ants looks like lots of fun. Here's a little info about the author:
Claudia Mills is the author of over fifty books for young readers. She does not personally keep an ant farm, but she does have a cat, Snickers, with whom she curls up on her couch at home in Boulder, Colorado, drinking hot chocolate and writing. To learn more, and to download free curriculum guides for her books, visit her website at claudiamillsauthor.com.