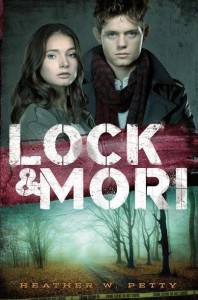 Today I'm taking part in a blog tour for a book that looks at how the relationship between Sherlock Holmes and James Moriarty would be different if they met as teenagers and if Moriarty was a girl. It's interesting to see how the author plays with the well known crime-committing/crime solving duo. The book is called Lock & Mori by Heather W. Petty, and I have one copy to give away to a reader in the U.S. If you'd like a chance to win a copy, just leave a comment below about your favorite Sherlock story. Just be sure to comment by midnight (PDT), Monday, September 14. Please note: The giveaway is closed. Congratulations to Bridget on winning.
Here's my review:
Imagine Sherlock Holmes in high school in modern day London meeting a girl named James "Mori" Moriarty. The two geniuses are bound together in an effort to solve a murder in a nearby park. They have only one rule: They must tell each other everything they discover along the way. But Mori finds the murder hits closer to home than she would have thought, and soon enough she is hiding clues from Sherlock in the hopes of solving the case on her own. But getting to the bottom of things may just ruin the romance developing between the two of them.
Lock & Mori by Heather W. Petty is an imaginative look at the relationship between Sherlock Holmes and his nemesis James Moriarty sure to delight teen readers. Creating Moriarty as a female character totally changes the way the two great minds approach each other. The book is told from Mori's point of view, and while readers identify with her, they also see a glimpse of personality traits that hint at a future that could turn to crime.
While I was disappointed that the mystery was not very difficult to solve, the action remained compelling to read throughout until the end. I recommend Lock & Mori for readers aged 12 to 16.
The publisher provided me with a copy of this book in exchange for my honest review.