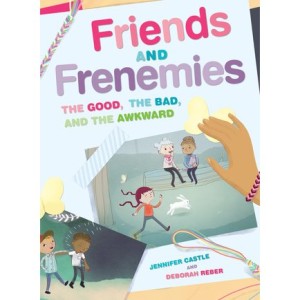 Today I'm taking part in a blog tour for a book that helps kids navigate the world of friendships. I have one copy to give away of Friends and Frenemies: The Good, The Bad, and The Awkward to a reader in the U.S. Just leave a comment here about what you appreciate in a friend. Be sure to comment by midnight, September 13 for a chance to win. Please note: The giveaway is closed. Congratulations to Sandra on winning.
Here's my review:
Having good friends and being a good friend are some of the biggest issues kids face as they go through school. Questions kids may ask themselves include: How do I make new friends? What happens when my best friend and I have a fight? Is gossiping ever a good idea? Friends and Frenemies: The Good, The Bad and The Awkward by Jennifer Castle and Deborah Reber aims to answer those questions and more. In short, easy to digest chapters, the authors cover the basics of friendships along with interactive features such as quizzes, suggested journal entries, poll results and other interesting tidbits. The chapters are colorful, and illustrations by Kaela Graham enhance readability.
Friends and Frenemies is a great book for readers aged 9 to 12. They can easily read the book all the way through to the end and then go back to do activities as specific issues come up that they need to deal with. That way it becomes a reference that can help with friendship issues through the years.
The publisher provided me with a copy of this book in exchange for my honest review.