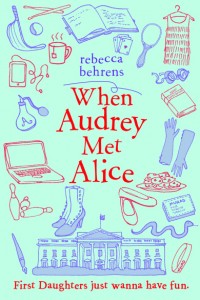 First Daughter Audrey Rhodes is having difficulty adjusting to life in the White House. She left her friends behind in Minnesota, making new ones at her new school is not easy with a Secret Service agent in tow, and delivery pizza is always cold. Mostly, she's lonely as her mom, the president, is always working and her dad, a researcher with an onsite lab, is never around either. So when she finds a diary hidden away by Alice Roosevelt, she's intrigued by the experiences of that long ago First Daughter. Soon, she finds inspiration from Alice's capers.
When Audrey Met Alice by Rebecca Behrens is a cute story about a modern teen who finds solace in the words of a contemporary from more than a century before. It's a good contrast between realities of life in the two different eras. It's also fun to read about the antics of Alice Roosevelt, well known in her time for pushing boundaries and getting into trouble.
Audrey discovers that taking refuge in the story of a life from the past is fine, but ultimately it doesn't take the place of communicating with the people important to you in the present. I recommend When Audrey Met Alice for mother-daughter book clubs with girls aged 9 and up.
The publisher provided me with a copy of this book in exchange for my honest review.