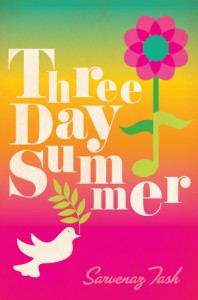 It's 1969 and the biggest concert of the summer is about to take place at a farm in Bethel, near Woodstock, New York. Seventeen-year-old Cora lives on a nearby farm and volunteers as a candy-striper in the medical tent. She's still recovering from a breakup with Ned, a boy everyone seems to love but who no longer loves her. Eighteen-year-old Michael drives to the festival with friends from his home near Boston. Michael loves music, but he's unsure about what else to do with his life now that he's graduated from high school. When the two meet, the relaxed attitude of festival-goers, the headiness of hearing some of the best performers in the world, and a dash of daring lead them to share secrets and more as they get to know each other.
Three Day Summer by Sarvenaz Tash is the story of two teens grappling with major decisions of what to do with their lives. They know the expectations others have of them, but the times are turbulent. Cora knows that roles for women are changing, but she's not sure if she dares to push back against her traditional father or others in town. Michael knows he may be drafted to serve in Vietnam, but he doesn't feel strongly about it one way or another. He feels he's drifting along without anything to look forward to. Freed for a few days from having to worry about their future gives both of them more clarity about what they really want.
As might be expected with a story that takes place at Woodstock, drug use and some sexuality are part of it. Mature teens and book groups with members aged 15 and up should find a lot to discuss in Three Day Summer. You may also be interested in listening to the playlist the author has gathered at her website.
The publisher provided me with a copy of this book in exchange for my honest review.