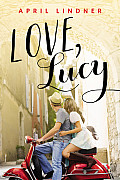 Lucy spends the summer before she starts college backpacking around Europe. In Florence she falls in love with the people, the food, the sights…and a guy named Jesse from Philadelphia. She thinks it's probably just a summer flirtation. Back at home she tells herself she needs to move on and forget about him, but she can't help hoping that their relationship was more than just a short-term thing.
Love, Lucy by April Lindner is a sweet story about a girl stuck between two worlds, one where she longs to follow her dreams and the other that's a more practical path to her future. Complicating the issue for Lucy is that she wanted to study acting in college, but her dad has refused to let her major in anything but business. He paid for the trip to Europe in exchange for her agreement to follow the path he chooses for her.
In the end, Lucy has to decide how to be true to herself without alienating her parents. Teens on the cusp of leaving home and establishing their identities on their own should be able to identify with Lucy's dilemma.
The publisher provided me with a copy of this book in exchange for my honest review.