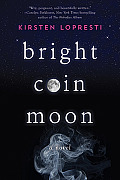 Lindsey and her mother are barely eking by, telling fortunes in a small Oregon town. But Lindsey is unmoored when their home mysteriously burns down and her mom whisks them off to California so they can get rich telling fortunes for stars.
Lindsey desperately wants to pursue her dream of going to college and becoming an astronomer, but she's not sure her mother will survive her leaving. Also, she finds herself attracted to the boy next door, but she's not sure how much she can trust him to keep her secrets. Ultimately, Lindsey must decide how to transition from her current reality to the future she wants.
Bright Coin Moon by Kirsten Lopresti looks at the influence parents can have on helping their children develop a moral compass…or not. Lindsey knows that her mom runs scams to bilk people out of money, yet she feels it's necessary for their survival. The web of lies they build around themselves is hard to maintain, Even the other people they collaborate with in their deceptions can't be trusted.
While I would have liked to see Lindsey struggle more deeply with the ethical and moral issues raised in the book, Bright Coin Moon provides an interesting story for mother-daughter book clubs with girls aged 14 and up to have their own discussions about getting by regardless of who you hurt with your actions.
The publisher provided me with a copy of this book in exchange for my honest review.