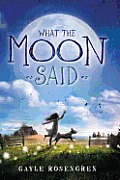 Esther's Ma pays attention to a lot of signs to keep her family safe. Frequent occurrences, like seeing a ring around the moon or a spider before breakfast, have to be analyzed to determine whether they will bring good luck or bad. And when it comes to Ma, Esther feels like she always needs good luck.
The family lives in Chicago at the start of the Great Depression, but when Pa loses his job, they all move to a farm in Wisconsin. The place is run-down, has no electricity or indoor plumbing, and requires lots of hard work, but Esther finds joy in country life. She doesn't understand why Ma is always looking for signs to help direct their lives, but Esther is also looking for signs—actions that will tell her that Ma truly loves her even though she always seems to be messing up.
What the Moon Said by Gayle Rosengren is fun to read because Esther's voice is innocent, hopeful, and trusting. She wants to believe her mother loves her, buy Ma is not one to show her emotions outwardly. Always focused on the tasks at hand, she doesn't take time for hugs and kisses. It's not until Esther experiences a few setbacks and begins to see the faults in other lives she thought were perfect, that she truly sees how Ma shows love.
Esther is lively, thoughtful, considerate, and wholly irresistible. You'll fall in love with her as she struggles to understand the people in her own family as well as the world around her. I highly recommend What the Moon Said for mother-daughter book clubs with girls aged 8 to 12.
The publisher gave me a copy of this book in exchange for my honest review.