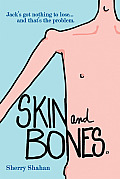 Jack is in a program for people with eating disorders because his parents want him to be there. He knows the truth: his thin frame looks good and he could even stand to lose a few pounds. Jack has been obsessed about his weight ever since middle school when a store clerk assessed his size and handed him a pair of "husky" jeans. He doesn't think he needs to change.
As he gets to know the other members in his six-week, live-in program he sees people who are just as obsessed with food as he is, some with eating it, some with not eating it. He's attracted to Alice, a young, anorexic ballerina who has been in and out of treatment several times. As Jack sees the things Alice does to lose weight, he starts to reassess his own point of view. He and others in the program experience group sessions, family meetings, and individual therapy, but it isn't until one of their own suffers a crisis that the true meaning of what they're dealing with becomes evident.
Skin and Bones by Sherry Shahan looks at the nature of eating disorders and how they can affect the lives and threaten the health of teens and young adults. With Jack, nicknamed Bones in the program, and his roommate Lard, an overeater, Shahan shows that girls aren't the only ones who get eating disorders. She also really gets the voice of a teen struggling with issues around food. Jack believes he is healthy. He will do anything to burn off the extra calories he's required to consume each day. Readers get to see why he thinks the way he does and why it's so difficult to change that thinking.
Skin and Bones is a great way for moms and daughters in book clubs to approach a difficult topic and discuss it. What is the danger of eating disorders? Why can't those who have them see their actions are hurting them? How do you react to someone you care about who has one? There are also facts about eating disorders and a list of resources in the back of the book. I recommend Skin and Bones for groups with girls aged 14 and up.
The publisher gave me a copy of this book in exchange for my honest review.