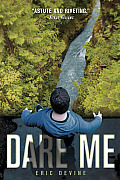 It all sounds so simple to Ben when his friend Ricky proposes it: complete a set of outrageous dares during their senior year and they'll go down as legends in their high school. Along with their friend John, they pull off the first dare—wind surfing on the roof of a car—without getting hurt. But as the video of the dare goes viral, each successive stunt must take on more risk if the friends are to keep their audience enthralled. Ben is afraid to continue, but he's even more afraid to go back to what he was like before.
Dare Me by Eric Devine is a chilling look at the restlessness that teens on the cusp of change can feel. Taking risks doesn't seem like a bad thing, particularly when the consequences aren't fully grasped. All three boys face tough situations at home: Ben's father loses his job and the family must cut expenses and move from their long time home. John is set to get a basketball scholarship to college, even though he's not sure he even wants to keep playing. His dad pressures him to keep up. And Ricky's parents are barely even in the picture, leaving him to figure things out on his own. The situation is ripe for prompting the boys to make rash decisions, regardless of what happens as a result.
Dare Me brings to light several important issues teens face that are good to discuss, including physical abuse in a relationship, the pressure high school kids can feel to perform at a high level so they can get into good colleges, and more pressure to fit in with their peers yet stand out in a way that brings praise. Behind it all is the role social media plays in pushing kids to do things they may not otherwise be motivated to do. Riveting and fast paced, this book is hard to put down. I recommend it for mother-daughter book clubs with girls aged 14 and up.
The publisher gave me a copy of this book in exchange for my honest review.