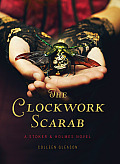 What would happen if Bram Stoker's sister, trained in killing vampires, teamed up with a master of observation, Sherlock Holmes's niece? Colleen Gleason answers that question in her novel for young adults, The Clockwork Scarab.
The time is late 19th century London, a city that has outlawed electricity in favor of steam. Young women have been found dead, supposedly from suicide, with mechanical scarabs near their bodies. Eveline Stoker and Mina Holmes are sure the girls have been murdered, and evidence points to the presence of a secret society that may endanger others.
The two bristle at working together at first, because they are so different. Eveline is beautiful and part of the society scene. Mina has inherited the Holmes' nose and prefers her laboratory to parties. But their strengths complement each other in ways they each come to respect as they work together to solve the mystery.
As the beginning of a series for young adult readers, The Clockwork Scarab is lots of fun. With steampunk features (a steamcycle and steam-stream gun!), cameo appearances by the main characters' more famous relatives, a time traveler, handsome love interests, and two ahead-of-their-times heroines, it sets a rollicking pace that carries the reader all the way through.
The publisher has a great discussion guide that can help book club members prepare for a meeting. I recommend it for mother-daughter book clubs and any readers aged 12 and up. There's also a great book trailer to whet your appetite. Be sure to check back tomorrow when I take part in The Clockwork Scarab blog tour. I'll feature an interview with the author and a book giveaway.
The publisher provided me with a copy of this book in exchange for my honest review.