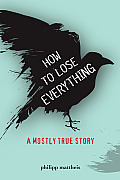 Jonathan, Sam, Schulz and Eric are doing what they normally do in summer, hanging out at the skate park, smoking, drinking and talking about sex. But when they hear about an abandoned house not far from their neighborhood in a suburb of Munich, they decide to investigate. While exploring the house they discover hidden money, lots of it. What they do with it will change all of their lives in ways they couldn't imagine.
How to Lose Everything: A Mostly True Story by Philipp Mattheis is a young adult memoir focusing on that fateful summer of 1994. At first, the boys spend money on things they always wish they could buy, like pizza, beer, candy and pot. But soon enough those petty purchases are no longer enough to satisfy them. Before long their purchases attract unwanted attention, and events start to spiral out of their control.
As the subtitle states and a note in the front of the book confirms, the events are based on a true story although the names of the main characters have been changed and some details altered to respect the privacy of those involved. Knowing it's mostly true makes the story even more fascinating, as we see how each of the friends reacts to his newfound wealth.
The narrative is told through Jonathan's voice, and so we see his friends' actions through his filter. Perhaps not surprisingly, he seems to be the most grounded of the four, happy to go along with his friends but somewhat reluctant to spend the money. This is especially true once he discovers letters from the woman who previously lived in the house and learns about her story.
How to Lose Everything is not just an account of the summer four friends found a lot of money, it's also a fascinating look at human nature and how it can be influenced by sudden, unexpected wealth. I recommend it for readers aged 14 and up.
The publisher provided me with a copy of this book in exchange for my honest review.
Save
Save