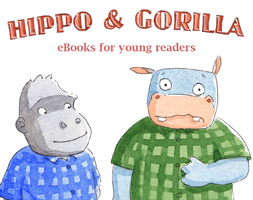 If you're looking for audio e-books for early readers you may want to check out the Hippo and Gorilla series of books. The creation of Bryan Langdo, Hippo and Gorilla are two friends who are total opposites. One is messy and clumsy and the other doesn't let loose often enough, sort of like "The Odd Couple" for children. But they are great friends and they help each other out.
The e-books are available to read on an iPad, Kindle or Nook, and they feature audio narration, original music and sound effects. The stories feature things kids can relate to, like eating too many donuts, having fun splashing in puddles, taking a bath and more. A collection of five is available with all the stories in the series so far.
Langdo has been working in the children's book industry for more than a decade as an author,  illustrator and editor. His illustrations are simple and engaging, and it's hard not fall in love with his delightful characters. Find out more about the series at HippoandGorilla.com.