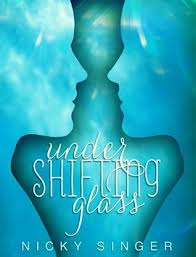 Jess is exploring a bureau she received after her Aunt Edie died when she discovers a mysterious bottle that seems to hold a life force of some kind. She's mesmerized by the swirling colors and the way the bottle sometimes feels warm and glowing while other times it is dark and cold. When her twin brothers are born conjoined and struggling for life, she begins to sense that whatever is in the bottle may hold the key to their survival.
Under Shifting Glass by Nicky Singer is mystical, heartfelt, and a bit haunting. Along with Jess's worry over her brothers, she suffers from the loss of her Aunt Edie, her grandmother's sister, who taught her to make music. She's also worried that her best friend, Zoe, is growing away from her and that she can't share her fears with Zoe the way she always has. In her search for understanding, Jess turns to her Catholic church and a Buddhist temple for solace. In the end, a discovery about Edie helps her know what she has to do.
Jess's story is sure to resonate with readers in mother-daughter book clubs with girls aged 12 and up. Jess's family situation is complicated: her father died when she was young, she was raised by her stepfather, and the grandmother she sees regularly is her father's mother. She doesn't think it's right to call her new siblings half-brothers. She's not sure where she fits in with her stepfather's affections now that he has biological children of his own. Jess feels fiercely protective of her brothers, so she overreacts when Zoe and her other friends don't understand her fears.
Life is complicated for Jess, much the way it is for many young teens who are experiencing emotional and physical changes of their own. Her journey of self-discovery is thoughtful, and author Singer does an excellent job of keeping all the threads working together to knit a story that will linger with you long after you read the last page. I highly recommend Under Shifting Glass. It's a book that is sure to strike a chord with the moms as well as the daughters.
The publisher provided me with a copy of this book in exchange for my honest review.