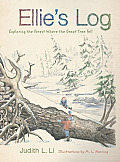 Eleven-year-old Ellie lives in a Pacific Northwest forest with her dad, who is the forest manager, and her mom, who is a researcher at the local university. Together with her new friend Ricky, she explores the forest around her and learns about the plant and animal life that can be found there if you just spend time looking for it.
Ellie's Log: Exploring the Forest Where the Great Tree Fell is a great introduction to kids about life in the forest. Author Judith L. Li is a stream ecologist and retired Associate Professor in the Department of Fisheries and Wildlife at Oregon State University, so she knows a thing or two about forest exploration. M. L. Herring, who created the illustrations, is a science writer who also heads the communications department at OSU's College of Agricultural Sciences. Her colorful illustrations beautifully depict animals, birds, trees, moss, and other things that can be found in the forest.
The pages showing Ellie's field journal are the highlight of the book: through drawings and what looks like hand-written notes they capture the essence of what Ellie and Ricky discovered on each of their trips into the woods.
While conversation between the two children doesn't seem to realistically portray how 11-year-olds would talk to each other, I believe there are many interesting things to discover in the book. I think parents and kids would have fun reading and talking about it together and letting the book inspire them to go on forest adventures of their own.
The publisher provided me with a copy of this book in exchange for my honest review.