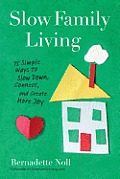 If you ever feel that family life is like being on a speeding treadmill in a never-ending rush from one chore or activity to another, take heart. A book by Bernadette Noll, cofounder of SlowFamilyLiving.com, has a few ideas for how to slow that treadmill run to a walk.
Noll and her husband have four children and plenty of family commitments, so she's had experience juggling schedules and slowing her own family life down so both parents and children can spend time together, getting to know one another and developing healthy bonds. As part of SlowFamilyLiving.com, she's given workshops to other parents on achieving a slower pace in their own lives.
Noll's book, Slow Family Living: 75 Simple Ways to Slow Down, Connect, and Create More Joy, brings her suggestions to everyone who needs them. Noll is quick to say that she doesn't have all the answers and her guide is only a start to implementing small changes that can bring big changes for families. Yet the simple suggestions found in its pages are likely to generate even more ideas from harried moms and dads who read them.
Noll doesn't suggest dropping out of activities all together, rather she suggests an approach that asks parents and children to consider the things that are most important to them, and then implement changes that will make sure those are the things that get done.
For instance, Noll says one of the questions to be asked with any family routine or activity is, "Is this working for us?" Too often we make commitments or accept invitations without considering the impact it has on the rest of our time. Noll suggests not answering right away when offered the opportunity to take on something new. Instead, she recommends taking time to reflect on how the new thing will relate to everything else going on and if it's truly worth it.
The short, simple suggestions found in Slow Family Living are easy to digest quickly then return to and ponder for a while. After all, Noll knows that what works in one family may not work for another. She doesn't give set prescriptions, rather she invites parents to think about what's important in their own lives and gives them ideas for how to achieve it. Slow Family Living is a resource you'll want to keep handy to refer to often as you work to create the kind of family life you want to be happy with as your children grow.
Check back tomorrow when Bernadette Noll visits Mother Daughter Book Club.com to talk abut her book and the Slow Family lifestyle.
The publisher provided me with a copy of this book in exchange for my honest review.