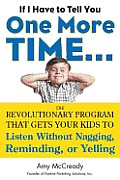 How many times have you wished you had a different solution when your kids act up than threatening with a time out or losing your cool and demanding they just do what you say? Situations that pit child against parent may come up multiple times a day, particularly when you have preschoolers testing limits to see how much they can get away with or teens seeking to assert their independence.
Amy McCready, founder of Positive Parenting Solutions, Inc., knows about the day-to-day power struggles that go on in families and she's got advice that can help the next time you're faced with a child who refuses to brush her teeth, get off the computer and come to dinner, or put his clothes in a hamper for washing. McCready's book, If I Have to Tell You One More Time… lays out many scenarios where power struggles may arise and gives suggestions for getting results without yelling, pleading, or overreacting with over-the-top punishments.
The subhead for the book says a lot about what you can find inside: The Revolutionary Program That Gets Your Kids to Listen Without Nagging, Reminding, or Yelling. I would have loved to have this guide when my daughters were younger. Each issue of childhood misbehavior has a Toolbox Solution—there are 23 toolboxes in all—that explains the solution, when to use it, why it works and gives tips for success. The only thing I believe could have made the book more useful is a more descriptive table of contents that outlines the issues and toolboxes in each chapter. That would make it easier to refer back to when needed. Even so, If I Have to Tell You One More Time… is a valuable tool to have on your parenting advice bookshelf.
The publisher provided me with a copy of this book for review in exchange for my honest review.