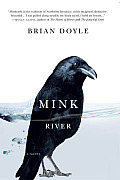 In Mink River, Brian Doyle melds Native American folklore, Irish storytelling, a host of quirky characters, and a little bit of the fantastical to bring a coastal Oregon town to life. The town is Neawanaka, whose residents get by as many real-life Oregon coast residents do: by logging, fishing, catering to tourists and dairy farming.
As in a good story told around a fire on a winter's evening, Doyle lets this one slowly unfold. Readers get to know each character a little bit at a time. Some are revealed intimately, their humanity exposed in both flaws and strengths. Others we know only in bits and pieces as they show the best or worst of themselves. Each causes both good and bad ripples that resonate through the entire town.
Getting used to Doyle's style of writing, which juxtaposes short, staccato sentences against long, train of thought paragraphs, is part of getting into the rhythm of the story. The style makes the reader pay attention to every word, a good thing because both dialogue and description reveals much about Neawanaka and its people. These people, driven by love, fear, insecurity, desire, hope, despair and more come to feel like people you know or wish you knew.
The story of Mink River stayed with me long after I turned the last page. Book clubs that take it up can talk about the nature of small towns, telling stories as a way of understanding our past and our present, discovering the dreams you want to follow, and the different types of characters that make up the tapestry of life. It also may inspire you to learn more about Native American cultures and Irish storytelling traditions. I highly recommend it for groups with readers aged 16 and up.
For more information on author Brian Doyle, check out this interview.