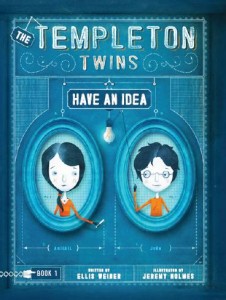 The Templeton Twins Have an Idea is the first in a new series aimed at readers age 9 to 12 that combines mystery, wordplay, humor and adventure. Written by Ellis Weiner and illustrated by Jeremy Holmes, The Templeton Twins is told from the point of view of a narrator, a somewhat sarcastic figure who poses funny review questions at the end of each chapter.
The story follows Abigail and John Templeton, fraternal twins whose mother has recently died after a long illness. They live on a university campus with their father, who is an inventor and college professor.
When the professor moves the family to a new university where he hopes to start fresh, the story really gets going. A former student with a grudge, who happens to be a twin as well, wants credit for one of the professor's inventions. He'll go to great lengths to make sure that happens, even if that means kidnapping the twins.
Young readers will like the wordplay, the puzzles that Abigail enjoys, and the narrator's comments about both readers and characters. Illustrations play up the inventive side of things and keep readers engaged as they scour the pictures for clues about the action to come.
A discussion guide can be found at the website, www.templetontwins.com. You can also download an excerpt to read:
Leave a comment below about twins, word games, puzzles, narrators or anything else related and you could win an autographed copy of The Templeton Twins. Just leave your note by midnight (Pacific Daylight Time), Tuesday, October 2. (Please note: the giveaway is closed. Congratulations to April on winning.)
The publisher provided me with a copy of this book in exchange for my honest review.