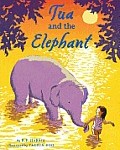 Everyone in Tua's little village in Thailand loves her. She weaves her way among the market stalls while her mother is at work, getting attention from vendors her know her as their little "peanut." But when Tua sees an elephant being mistreated, she knows she must save her from the cruel men who own her. But how can she steal an elephant, and what will she do with the elephant once she has her?
Tua and the Elephant is the delightful story of a little girl who bonds with an elephant and sets her mind to help her. Tua names her elephant Pohn-Pohn, and she feels she can communicate with her. Pohn-Pohn's abusive owners have evil intentions, but they are mostly inept and can't seem to overcome the forces of good Tua has on her side.
This sweet story delves into issues of friendship, courage to follow your heart, and the plight of Thailand's elephants. I highly recommend it for mother-daughter book clubs with girls aged 8 to 12.
The publisher provided me with a copy of this book to review.