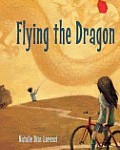 Skye's dream is to make it onto the advanced soccer team for summer near her home in the Washington, D.C. area. Hiroshi wants nothing more than to enter his first kite-flying competition in his small town in Japan. Neither will get what's expected when Hiroshi's family moves to the U.S. for his grandfather to get a special treatment for cancer. He's never met his cousin Skye, as her father had a falling out with his family before she was born.
Skye has never thought much about her Japanese heritage. She only thinks of herself as American, and as her dad didn't force her to learn much Japanese, she can't even speak well with her foreign relatives. While Skye and Hiroshi are too polite to let on that they don't like each other, there are conflicts right away. Skye doesn't want to babysit Hiroshi at school, and he wants to make other friends too. Hiroshi has a close bond with their grandfather, and now that their time together may be limited, he doesn't want to share that time with Skye.
Flying the Dragon by Natalie Dias Lorenzi is a story about family, identity, and learning to focus on what's important. As Skye gets to know her relatives from Japan, she finds herself leaving behind some of the things she thought were most important to her in the past. And Hiroshi, who is adapting to life in a new country as well as a sick relative, has to learn how to share the things and the people he loves so he can be happy in his new home.
The tale goes back and forth from Skye's perspective to Hiroshi's, and Lorenzi does an excellent job of making each character come alive. The art of traditional kite flying in Japan does a lot to bring the cousins together, and it is interesting for U.S. readers to learn about.
Flying the Dragon is a great book to read in mother-daughter book clubs where the girls are aged 9 to 12. Issues to discuss include cultural differences between the U.S. and Japan, family conflict, ethnic identify, grief and more. I highly recommend it.
The publisher provided me with a copy of this book to review.