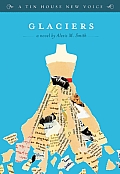 Isabel lives her life through other people's stories; old movies, old photographs and clothing she finds in thrift stores, and old books she repairs in the basement of the library. But when she finds an old postcard of Amsterdam in her favorite junk shop, she is surprised to find a message on the back. She imagines it is a message from one lover to another, and she begins to think about the way she lives her life.
She resolves to reveal something of herself to Spoke, a veteran of the war in Iraq who also works in the basement of the library. Spoke, too, is a solitary figure, liked by his co-workers, but extremely private. Isabel struggles to make a connection while she can.
Glaciers by Alexis M Smith on the surface seems disarmingly simple, but as the story quietly unfolds and Alexis reveals more about herself and her childhood near the glaciers in Alaska, the portrait emerges of a twenty-something woman who values the things that others have discarded, while she struggles to find beauty and meaning in the present. Her hometown of Portland, Oregon plays a strong role in the story, as it allows her to be isolated even in the midst of an urban landscape that is on the surface much the same as Isabel.
Glaciers has a restless quality to it that will keep Isabel's story in your mind long after you have turned the last page of this small but provocative novel.
The publisher provided me with a copy of this book for review.