Rosie Flo's coloring books series by Roz Streeten offers several out-of-the-ordinary options for kids who like to and have the patience to color in detail. The series includes books on kitchen items, gardening, animals, travel, night-time activities and more. Now author Roz Streeten has created Rosie Flo's Coloring Fashion Show with tear outs that let kids create their own fashion shows, complete with an audience and a runway.
I asked for a copy of this for review from the publisher because I thought it would resonate with younger girls who like to color and would appreciate being able to make a display with their creations. Once I received my copy in the mail, I knew it would live up to my expectations. Rosie Flo's Coloring Fashion Show comes in a sturdy box that can keep everything tidy as girls complete each part of the tableau that will make up their stage and fashions. Once colored in, the stage itself with the runway is easy and fun to assemble.
The outfits for the models and audience members are not connected with faces, legs and arms, and at first I wasn't sure I liked it that way. I am used to cut-outs that attach to figures that actually look like people. But then I realized I like this template better, because it lets you imagine the types of people wearing the clothes. In your mind, you can create an audience and models of whatever ethnicity you'd like, without a cut-out making it fixed.
I really enjoyed thinking about the colors I wanted to use on the fashions, and it was fun creating wild combinations that I would never wear myself. My daughter and I worked on this together, and I appreciated the time we had to talk as we both colored away. It's the kind of unstructured conversation time that rarely comes up in our daily lives. My daughter is also a fan of Project Runway, so she was happy for a chance to put her own thoughts about color onto the outfits provided in the kit.
Here are a few photos of Rosie Flo's Coloring Fashion Show to help give you an idea of what you and your daughter can create.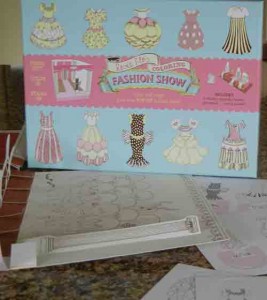 Here's the box with the stage unassembled and sheets of fashions nearby.
Here's the audience assembled and a dress on the runway.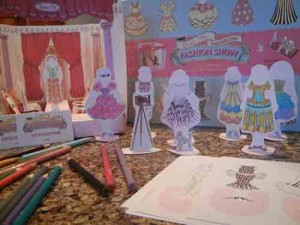 Here's our work area. Lots of fashions are already completed, but there's still more to go.
Save