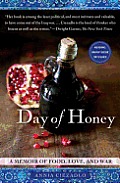 When Annia Ciezadlo started dating a Lebanese man she met in New York, she had no idea how his culture and his family would influence her life. After all, most of Mohamad's family lived elsewhere, in Lebanon, France and Spain. But when Newsday appointed Mohamad chief of its Middle East bureau, he wanted to be stationed in Beirut, and Annia moved with him. Soon they were both in Iraq, Mohamad reporting and Annia working as a freelance writer. Annia's story, Day of Honey: A Memoir of Food, Love, And War talks about their days living there and the subsequent years they spent back in Beirut.
A girl from the Midwest, Annia saw importance in food from the time she was very young. She eats anything, which is part of what makes her account so fascinating. While Annia's story takes place in war zones, her story is not about the conflicts themselves as much as it is about the people that experience it. How do they live, how do they eat, and how do they comfort themselves amid the uncertainty and violence? The people she befriends, the people she interviews for stories, all experience loss and deprivation, yet they carry on in ways that people have probably been carrying on from the beginning of conflict—with food, with friends and family, and with hope for the future.
As Annia meets Mohamad's family and gets to know them, eventually even learning how to cook traditional Lebanese foods from his mother, she also confronts what it is about herself that makes her crave life in a war zone. Her descriptions of the conflicts she finds herself in the middle of and recent histories there are interesting. It's a fascinating account of a place and a time that few of us have experienced outside of news stories. A bonus with Day of Honey is all the recipes in the back—nearly 20 of them that you'll be eager to try so you can bring a taste of the Middle East into your own kitchen.
The publisher provided me with a copy of this book to review.