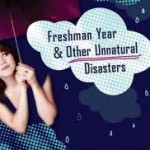 As she heads into high school, Kelsey is determined to change the way people see her. It's not that she doesn't already have a lot going for her already—including great friends and pretty good looks—but she wants to kick things up a notch. But right away, things don't turn out quite like she planned.
She makes an enemy of her soccer captain, gets into a conflict with one of her best friends, botches her first kiss and fights often with her mom. And someone on the photography staff of the school newspaper seems to have it out for her, because photos of her in embarrassing positions keep showing up in print.
Through every setback, Kelsey is even more determined to make things better. You'll admire her spunk, her sense of humor and her tenacity, even when she's being what her mom calls a Typical Adolescent.
Issues to talk about in mother-daughter book clubs include handling conflicts with friends, first dates and kisses, mother-daughter relationships, and underage drinking and drug use. I recommend it for mother-daughter book clubs with girls aged 14 and up.
Click here to watch the book trailer. Also, you may want to check back tomorrow when I'm featuring a great interview with author Meredith Zeitlin. In it she talks about why she likes to write fiction for young adults, issues you can discuss in a book club and lots more.
You may also want to visit Read These Books and Use Them on Monday for a review and giveaway.
The publisher provided me with a copy of this book to review.