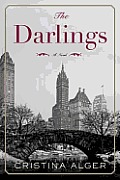 Here's a review of a book I recommend for moms, and I have one copy to give away. Just leave a comment by midnight (PST), Tuesday, March 13 for a chance to win a copy of The Darlings by Cristina Alger. U.S. and Canadian addresses only please. (Please note: the giveaway is closed. Congratulations to Michelle on winning.) Here's my review:
The Darling family of Manhattan seems to have everything: good looks, money, excellent taste in the things that matter, and a bright future. But when a close associate of Carter Darling commits suicide, the façade that was holding that future together starts to fall apart. Suddenly there's talk of investor fraud, an SEC investigation and possible criminal charges. Everyone in the family—Carter and his wife, their two daughters and sons-in-law—stands to lose. Will their fierce loyalty to family help them through the crisis, or can they even trust each other now?
The Darlings by Cristina Alger is a fascinating look at the financial crisis of 2008 as seen through the eyes of wealthy investment bankers and lawyers as well as the secretaries who work for them and the journalists who write about them. As the story unfolds, readers get a behind-the-scenes look at the relationships and actions that could lead smart people to do things that were not so smart just to hold onto their lifestyles.
The lifestyle of the very wealthy is on display—lavish purchases, vacation homes, and charity fundraisers that are more about the women organizing them than the cause are all part of the story. That alone is fun to read about, but it's also interesting to get a peek into the lifestyles of the working class Manhattanites and the reasons they keep living in the city.
Author Cristina Alger knows what she's writing about. As a native New Yorker, she graduated from Harvard and NYU Law School, then worked as an analyst and attorney before becoming an author. In her novel, she shows she is also skilled at telling a good story. And while keeping track of all the players in the action was sometimes a challenge, it was worth it when it all came together at the end with nearly every character playing a critical role in the outcome.
Check back tomorrow when I feature an essay by Cristina Alger about her mother's influence on her reading and writing.
The publisher provided me with a copy of this book to review.