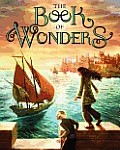 Thirteen-year-old Zardi is the daughter of the Sultan's closest adviser. She lives with her family and Rhidan, a ward of the state since he was found on their shores as a babe years ago. Rhidan doesn't look like anyone else in their country, and he knows nothing about where he is from.
When the cruel Sultan imprisons Zardi's sister and father she is desperate to find a way to free them and end the Sultan's iron-fisted rule over her country. If she and Rhidan can find a sailor named Sinbad, who seems to know something about Rhidan's origin and tells tales of fighting magical creatures, they just may be able to solve Rhidan's mystery and get rid of the Sultan once and for all.
The Book of Wonders is the first in a new trilogy for young readers by Jasmine Richards. Drawing on Arabian legends of djinnis, Sinbad, Sheherazade, a Cyclops and other magical creatures, Richards weaves a tale of adventure that doesn't stop from beginning to end.
Zardi is a strong character who refuses to accept the way things are and the strictures for how girls are supposed to act in her time. Together, she and Rhidan encounter one adventure after another as they race to save her family and find out where he comes from. Along the way they have to ponder big issues about deciding who to trust, making amends for wrongdoing, and finding out what it means to be a friend.
While the ending sets up the next adventure the two will tackle, it also is a satisfying conclusion to this story. I recommend it for mother-daughter book clubs with girls aged 8 to 12.
The author provided me with a copy of this book to review.