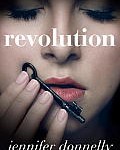 Andi's life fell apart after her younger brother died. Her parents divorced, her mother paints canvases with her brother's face on them all day, and Andi feels Truman's death was all her fault. The crushing weight of her depression has her feeling hopeless and contemplating suicide.
Her dad, a world famous geneticist, tries to save her by taking her from her home in Brooklyn with him on an assignment in Paris. Tasked with matching the DNA from a long-preserved heart to Marie Antoinette and her son, he is too occupied with his own project to truly be of much help.
Andi sees no way to shake her hopelessness, until she meets a taxi driver who shares her love of music and finds the diary of a girl assigned to care for the young prince during the French Revolution. As Alexandrine's story unfolds, Andi finds herself entwined in a mystery that spans several centuries and threatens to send her spiraling even further down than before.
Revolution by Jennifer Donnelly moves deftly between the modern world and the chaos that existed in the late 1700s revolutionary France. In Paris, Andi explores the life of a well-known composer who lived during the time of the revolution. She also explores the dark world of the catacombs that lie beneath the city and scratches at the current of racism against northern Africans that France struggles with today. She sees parallels between the current situation and the revolution. Ultimately, if Andi is to survive she has to find a way to hope for the future once more.
Revolution will satisfy readers who love historical fiction as well as those who like to read about teens in today's world solving problems. Andi as a heroine is difficult to like, as she is prickly and dark and lashing out at those around her. Yet her raw emotions and search for hope in the midst of despair will have you pulling for her to make peace with herself. I recommend this book for mother-daughter book clubs with girls aged 16 and up.
The publisher provided me with a copy of this book to review.