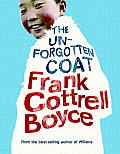 Julie is thinking of nothing more than sneaking makeup from her friend's mom and getting boys to notice her as she finishes summer term of Year Six. Then one day Mongolian brothers Chingis and Nergui appear in her classroom, and they appoint her their "good guide," the person who will help them learn about their new home.
Suddenly Julie wants to know more about these strange brothers who seem very good at manipulating teachers and students into getting what they want, but who reveal little of themselves and are afraid of demons. Julie takes her role as good guide seriously, and she's determined to find out more about the Mongolia Chingis speaks of and why he's so protective of his younger brother.
Equally heartbreaking, funny and moving, Frank Cottrell Boyce's The Unforgotten Coat is a small book with a big heart. It tells a story of family, emigration, hope and possibilities that will carry you along as it tranforms Bootle, England into the steppes of Mongolia. As in his other works, Millions, Framed and Cosmic, Boyce portrays children who are innocent, yet in their naiveté understand basic truths better than many adults.
From Chengis and Nergui, Julie learns to look at the world around her with fresh eyes. The Unforgotten Coat may inspire you to do the same. I highly recommend it for mother-daughter book clubs with girls aged 9 to 14.
The publisher provided me with a copy of this book for review.