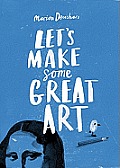 Today I'm thrilled to let you know about a new book that can help kids get excited about creating art, and I have one copy of it to give away to a reader. If you'd like to win, just leave a comment with something about art, whether it's about what you like to create, or your favorite artists, or one of your favorite paintings. The giveaway is open until midnight (PDT), Monday, October 10. Entries from U.S. and Canadian addresses only please. (Please note: the giveaway is closed. Congratulations to Elizabeth on winning.)
Here's the review:
To inspire her own children to move away from the screen and get creative, professional artist Marion Deuchars put together art projects that would keep them engaged and challenged. Those projects evolved into a book that parents will cheer and kids everywhere will love: Let's Make Some Great Art.
This oversized book is filled with activities that range from simple, like coloring in drawings, to more complicated, like making a mobile. Taken all together, the projects educate young artists aged eight and above about famous artists, the history of art, and different ways you can make your own art.
For example, one set of activities starts by talking about Alexander Calder, an American artist known for his mobiles and sculptures. The next page gives directions for coloring in a mobile in Calder's style. The page after that gives instructions on how to make a mobile.
Basic concepts of art—line, color, perspective—are built into many of the ideas as are techniques that help kids learn to draw, such as crosshatching, creating patterns and using grids. Above all, kids are asked to use their imaginations and actively think about what they want to create.
Let's Make Some Great Art will provide hours of fun for kids, and it's likely that their parents will want to join in too. This book would also make a great gift for budding artists.
The publisher provided me with a copy of this book to review.