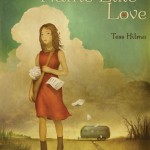 With a Name Like Love is a new book by Tess Hilmo that explores themes of friendship, pursuit of what's right, and standing up for someone who is unpopular. Geared to readers aged 9 to 12, it will resonate with those even older. In a previous post, author Tess Hilmo offered her thoughts on The Power of Words. Below you'll find my review of the book. I'm also thrilled to be able to offer a copy of this quiet but powerful book to two readers at Mother Daughter Book Club. com. To enter your name to win a copy (U.S. and Canadian addresses only please), just leave a comment here by midnight (PDT) on Wednesday, October 12. If you'd like, you can talk about a time when you took a stance that was unpopular with those around you, but that you were ultimately glad you took. Here's my review:
When the Love family pulls into the town of Binder, Arkansas, Ollie has no reason to believe her time there will be different from any other place they've been. Her daddy, Everlasting Love, will preach in a field for three nights and the people will come from far and wide to receive comfort from his words. Then she and her four younger sisters will be off with their parents to the next town.
But when Ollie meets a boy named Jimmy whose mama is falsely accused of murdering his daddy, she feels maybe she can help do some good as well. The trouble is, there are some folks in this small town who would rather things stay the way they are, and they would resort to violence in order to encourage the Loves to leave. Ollie is determined to do what's right for Jimmy and ultimately, for the townspeople, but first she has to convince the rest of her family to put down roots for a change.
With a Name Like Love by Tess Hilmo reveals the whole of human nature through the eyes of a 13-year-old girl. Ollie admires her daddy's ability to be calm and bring comfort to his family members as well as to those who hear him preach. She also recognizes the restlessness in him that keeps the Loves on the road when she would dearly love to stay in one place for a while and make friends. She sees the goodness in people who will help out their neighbors, and the indifference that will make them look the other way when something goes wrong. Ollie also is a witness to the darkness that can live in a human soul, and the fact that even when you shine a light on it, the darkness may not go away.
Tender and moving, With a Name Like Love is also a bit of a mystery and crime thriller that will have you rooting for the town of Binder, Jimmy and his mama, and most of all, Ollie and all of the Love family. I highly recommend it for mother-daughter book clubs with girls aged 9 to 12.
The author provided me with a copy of this book for review.