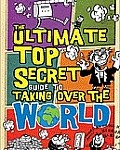 Taking over the world is easy. All you need are a few minions and lackeys, an evil robot army, and the right clothing. Oh, and you may want to be able to have to ability to actually destroy the world too. All these simple tips and more are included in Kenn Nesbitt's new book, The Ultimate Top Secret Guide to Taking Over the World. Nesbitt has lots of great tips for kids who are searching for ways to become geniuses and mad scientists as well as to conquer secret agents. Ethan Long's illustrations perfectly capture the diabolical nature of the suggestions, complete with evil laughs.
Kids will love this funny guide that includes blank pages at the back along with prompts on how to use them to keep "destruction notes." My teenage daughter even liked reading this. She said it was a welcome relief to read something just for fun in addition to all the serious books she has to tackle for school. I recommend it for kids aged 8 to 12 or older depending on their sense of humor.
The publisher provided me with a copy of this book to review.
Save
Save