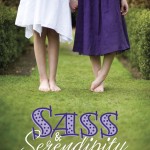 Gabby is 17 years old and has her feet firmly planted on the ground. She holds no illusions about the imperfections of those around her, and she's determined not to make the same mistakes her mother has by letting romance get in the way of what she wants to accomplish. Gabby's 15-year-old sister Daphne is just the opposite. She sees the world through rose-tinted glasses, and she's sure that the way to find true romance is to expect it.
Each girl is confident that her approach to life is the best, and her sister is wrong. The situation is ripe enough for conflict, but when you throw in recently divorced parents, a loyal best friend who may be interested in more than friendship, the family's struggling financial situation and more, Gabby and Daphne want to declare war on each other.
Sass and Serendipity by Jennifer Ziegler explores the family dynamic through sisters with two very different personalities. Gabby and Daphne not only have different views of the same events, they also choose different ways of coping with these events. Like Jane Austen's Sense and Sensibility, Sass and Serendipity explores the relationship between sisters and other family members, the pitfalls of making snap judgments without knowing more than one view of a story, and the drawbacks to being rigid in whatever outlook you tend to favor. Mother-daughter book clubs with girls aged 14 and up will find lots to discuss.
To learn more, check out the interview where Ziegler talks about her writing life, her characters, and the challenges of adapting a Jane Austen story for modern times. You may also want to know about out a giveaway Ziegler is featuring on her website. Here are the details:
To learn more about Jennifer, visit her website: http://www.jenniferziegler.net/index.html or blog: http://www.jenniferziegler.net/blog/.
The author provided me with a copy of this book to review.
Save