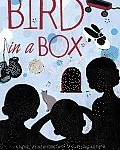 Hibernia sure can sing. She loves to belt out songs just like her mama, who left many years ago seeking to perform in the nightclubs of Harlem. Willie is a boxer. When he's sparring he pretends he's jabbing Sampson, the father who gets mean drunk and takes it out on Willie and his mama. Otis got his love of riddles from his daddy, who was always trying a new one out on his family. Now Otis dreams of riddles and tries to forget about the accident that took away his parents.
Three children in a small town in upstate New York—united by their loss, their dreams, and their hope for a Negro boxer named Joe Louis. Set in 1936 and 1937 during Louis's rise to boxing's heavyweight championship, Bird in a Box by Andrea Davis Pinkney will have you pulling for Joe right along with the children and the adults in their lives. Louis brought hope to African Americans of the time. He was a highly visible representation of the fact that a black man could rise from poverty in the south and be a success. This was a considerable feat during the time of Jim Crow laws.
Louis is an inspiration to Hibernia, Willie and Otis. Listening to his boxing matches on the radio helps them forget their personal losses. Willie and Otis bunk next to each other in the orphanage. They cling to each out of necessity at first, but their friendship soon becomes tender and vital. Hibernia is the preacher's daughter, and her spunky personality chafes to be turned loose in song.
The reader gets to know each of these characters through alternating chapters of first person accounts of events that happen during a year in their lives. Profoundly touching and beautifully written, Bird in a Box is a great choice for mother-daughter book clubs with girls aged 9 to 12.
Publisher Little, Brown and Company sent me a copy of this book for review.