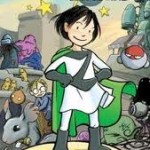 When Zita finds a gadget in what appears to be a crashed meteorite site, she can't resist pushing the button. When she does, a creature with octopus-like limbs reaches through a tear in the sky and grabs her friend Joesph. Zita runs away, but soon she realizes that she must follow Joseph and try to bring him back.
So she pushes the button again and steps into a fantastical world of strange creatures, some friendly, some not. Zita discovers that this world is about to be destroyed by an asteroid, and those in charge think Joseph can save them.
With lots of spunk and daring, Zita tackles all sorts of challenges as she sets out on a quest to save Joseph. The friends she makes along the way just may be able to help her save the magical world she explores from destruction too.
Zita the Spacegirl, written and illustrated by Ben Hatke, is a fast-paced space adventure graphic novel. Zita is irresistible as she makes new friends and fearlessly searches for Joseph. Detailed yet simple illustrations bring all the fantastical creatures to life and give them personality. This is the first in a series that should delight readers aged 7 to 10.
Save