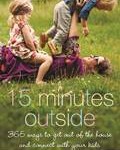 Going outside everyday with your kids is easier than you think, and there are lots of good reasons to do so. That's the premise of a new book by gardening and outdoor lifestyle expert Rebecca P. Cohen. Frustrated that the demands of her business and daily life kept her from spending as much time with her two young sons as she wanted, Cohen made a commitment that she would spend at least 15 minutes outside with them every day.
Even when the weather was extremely cold or very hot, Cohen stuck to the plan, and she found that her family's new outdoor-oriented lifestyle was healthy not just for the kids, but for her and her husband as well. Cohen writes, "With some fresh air and movement, I feel grounded, active, and strong, yet relaxed."
Using her own experience, Cohen gathered a list of ideas and tips to help you put them into action in her book, 15 Minutes Outside: 365 Ways to Get Out of the House and Connect With Your Kids. The recommendations you'll find there are inspiring in many ways. While some may not work for your area, like riding public transportation to an outing, some are simple enough for almost everyone, like going outside to enjoy the sunset or having a picnic lunch. After reading about Cohen's experience you're sure to be motivated to come up with ideas for your own family.
While you'll certainly find that many of the activities work best for younger children, you can also adapt many of them to appeal to your older kids as well. Check out more ideas on Cohen's website. There you can watch TV episodes Cohen has produced with ideas for getting out of the house, and you can view other products she has created, like her curiosity cards, great for taking along on a walk to help engage your kids with the world around them.