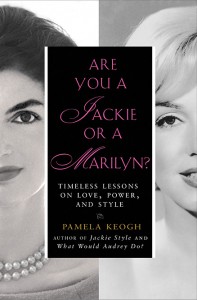 Jacqueline Kennedy Onassis and Marilyn Monroe are two of the most memorable female icons of the last century. In her own way, each embodied personal style and celebrity, and each held power over those around her.
Jacqueline came from a powerful and privileged family, while Marilyn rose above poverty to become a star, but each was also restricted by the expectations placed on them by others. Are You a Jackie or a Marilyn: Timeless Lessons on Love, Power, and Style by Pamela Keogh compares and contrasts these two women while also speculating as to how they fit into today's world.
Each chapter highlights a quality Jackie and Marilyn were known for, such as beauty, style, mystery and diva behavior. Questions throughout let the reader ponder whether she is more like Jackie or more like Marilyn or a blend of both. You'll also find advice on when it may be more advantageous to be more of one or the other. The tone ranges from serious when talking about the big issues Jackie and Marilyn faced, to lighthearted. Lots of sidebars keep this a fast-paced book to read. It's a lot of fun.
Save