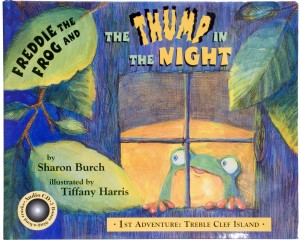 Music has always been a big part of both of my daughters' lives, and knowing how much they loved musical books and toys when they were very young I'm always on the lookout for products that combine reading and music to give as gifts for the little ones I know. That's why I was happy to discover these cute picture books recently called Freddie the Frog Adventures. The author, a music teacher named Sharon Burch, developed a method to teach music to preschoolers through third graders. Her Freddie the Frog books were created to share this method with children all over.
There are four Freddie the Frog books out now, and each one comes with a CD. You can also get a matching set of flash cards for most titles. Illustrations by Tiffany Harris are colorful and they really bring Freddie to life. Click here to watch a video reading of the first book, Freddie the Frog and the Thump in the Night.
The author's website also lists some of the benefits of teaching children music, one of which is that it exercises the brain in multiple ways. Check out more at the website.
Save