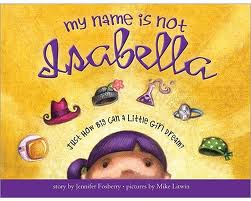 My Name is Not Isabella is a delightful new picture book by Jennifer Fosberry that introduces children to some of the strongest female figures in history, all seen through the eyes of a little girl.
The sequence starts off with the mother at the bedroom door saying, "Good morning Isabella. It's time to get up and out of bed." "My name is not Isabella!" said the little girl. "Then who has been sleeping in my daughter's bed?" asked the mother.
"I am Sally, the greatest, toughest astronaut who ever was!" The mother in the story is wonderfully patient as her daughter cycles from being Isabella to Sally Ride one day then Annie Oakley, Rosa Parks, Marie Curie, Elizabeth Blackwell and mommy. All are important women in history, and mommy is a great hero for a little girl to have. Bios on each of the famous women catching Isabella's imagination are included in the back.
My Name is Not Isabella should be able to spark discussions about the real people behind the names that Isabella decides to take on for a while. The illustrations by Mike Litwin show Isabella as a spunky girl who is strong, smart, courageous and caring. I highly recommend it. Here's the book trailer if you'd like to take a look at it: http://www.youtube.com/watch?v=A7Jam0f4rx8
Save