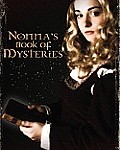 Florence in the 1400s was a world center for painting and culture. But the guild tightly controlled who could be licensed as a master painter, and girls and women were not allowed on their list. Still, fourteen-year-old Emilia Serafini lives for her art, and she's desperate to find a way out of the marriage her father has planned for her. So she turns for guidance to a book her mother gives her that has been handed down through generations in her family:  Manual to the Science of Alchemy.
But the book's advice is not always easy to interpret, and sometimes Emilia doesn't want to follow the advice she reads there. When she finds herself involved with a wealthy but unscrupulous businessman who covets the book, Emilia must call on all the magic she can muster from its pages to help her create the future she longs for.
In Nonna's Book of Mysteries, author Mary Osborne paints a fascinating picture of Renaissance Italy and its thirst for beauty and knowledge. She includes enough historical details to bring the time period to life, but not so much that it overwhelms Emilia's story. And Emilia is a great character who is rooted in her era with all the dreams of a girl far ahead of her time. Headstrong and determined, she also learns a lot about patience and tapping into wisdom passed down through the ages.
I also enjoyed reading about creating icons and frescoes and getting a taste for what life was like in a master artist's studio of the period. Nonna's Book of Mysteries is historical fiction at its best. I recommend it for mother-daughter book clubs with girls aged 14 and up.