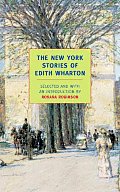 Mother-daughter book club reader Inez C. from Arizona sent in this review of The New York Stories of Edith Wharton.
Step into the pages of Edith Wharton's short stories about turn of the century New York and you find yourself in the midst of a genteel, well mannered society where "doing the right thing" takes the center stage. The language in these stories is elegant, especially Miss Wharton's descriptions of the architecture and the furnishings. What made this a treasure to share with our daughters, however, was that each of the stories has a lesson within it about making choices that demonstrate empathy and respect for other people. This is something that t so often goes missing in our Me Me Me society where kids—and a lot of adults, too!—are more tuned into their iPods and "American Idol" than they are to what is going on in their own families and neighborhoods.
Each story in this collection makes for a good "What would you do if you were any of these characters" discussion, and we decided to make one of our sessions extra special by accompanying it with a mother and daughter tea party. No jeans and sneakers were allowed at this one! We each dressed up for the reading and the daughters helped make the finger sandwiches. We bought the scones from a local bakery and had several different kinds of tea. To top things off, we even found an older lady who offered to come to our group and talk about rules of etiquette. This tied in well with our Edith Wharton readings because the people in the stories are quite polite and would be aghast to commit social faux pas! What gladdened us the most, though, was that the etiquette lesson made such an impression on our younger members that they each hand-wrote thank you letters to the woman who gave a talk on manners. We are hoping this stays with them through their adult lives, along with the memory of this quality literature and its author.
(Special Note: If you don't have someone you can get to come and talk about good manners, there is a fun book called The Book of Etiquette, by Michael MacFarlane and published by Main Street/Sterling Publishing Company. It is worth a look and also makes a good present for a teen or tween who needs a politeness nudge.) – Inez C. from Arizona