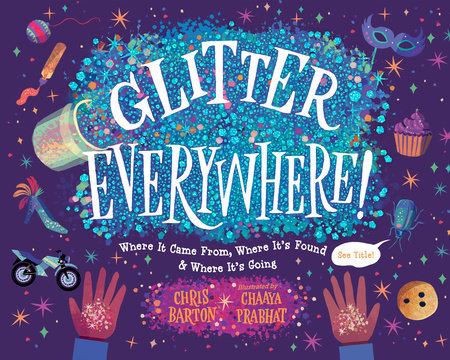 Anyone who's ever used glitter (and who hasn't?) knows how even just a little can go a long way. And it keeps turning up long after your project is finished! But most people don't know much about the background of this widely-used sparkling bit.
Glitter Everywhere! Where It Came From, Where It's Found & Where It's Going by Chris Barton aims to change that. More than a picture book, Glitter Everywhere talks about why people like shiny things, and how people have used various things over the ages to create that sparking look. For instance, glittery bits of beetles were used to adorn King Tut's tomb. And the mineral mica has been used to make artwork and fabric and other creations sparkle.
Illustrations by Chaaya Prabhat are colorful and fun, showing lots of things where glitter is often found, like greeting cards and ornaments. Young readers will find interesting facts about the history of modern-day glitter, too, like a World War II product called flitter. Glitter Everywhere! doesn't shy away from the controversy of the product, either. Glitter is a microplastic, after all, and microplastics are littering the ocean and hurting wildlife. But it also talks about what responsible companies are doing to create sustainable alternatives.
Glitter Everywhere! will have young readers thinking in new ways about an everyday product that children may use frequently. I recommend it for readers aged 6 to 9.
The publisher provided me with a copy of this title in exchange for my honest review.